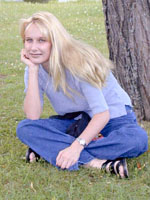 Hanging out at the park

Remember that naughty girl your mother warned you about? Well you found her! Now you have two choices, be a good boy, call your mother and tell her how much you love her or cum inside and have some fun with me! If you chose the first option say hi to your mom for me, if you chose the second read on and get ready to have some fun and see some dirty pictures and videos:-)

I started my site in November of 1999 with my boyfriend at the time and have been documenting all my sexcapades for you to see since I was the young and tender age of 19 :-) Unlike most couples when we started dating he was the more conservative one and I was the wild one. But with a little convincing (I let him have sex with other women) he got the swinger attitude very fast:-) Also he realized that it was a huge turn on to watch me get fucked by other men! I have always been a big exhibitionist & we started the site to share our little sexcapades with everyone but it became a great way to meet new people, make new friends and have more great sex! So when you put the exhibitionism with the swinging together you get one hell of a fun time and a great website!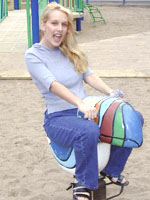 Ride that pony!
The main thing most people want to know about me is if I'm single, the answer is yes but I prefer to call it swingle! I do enjoy the single life but much prefer to have a boyfriend and someone to share my life with. It's not easy to find a guy who will accept the fact that I have a website and that I enjoy swinging with others, even though he would get to have sex with me and all my girlfriends!
A little bit more about lil Angie… I am French Canadian, I grew up in Montreal but my family moved to Florida when I was 10 years old and that's when I learned to speak English. It was quite funny, me in a class with 15 Spanish speaking kids learning English and I had no clue what they or the teacher was saying for the first little while! Unfortunately my dad was transferred back to Montreal 3 years later and we moved back to snowy Montreal arg! … fast forward a few years and here I am living in Montreal with my roommate Kelly-Ann (yes there are some pics of us fooling around in my site, you pervert:-) and working pretty much full time on my site… doing shows, chatting with members and having sex all the time might not be the best paying job, but the benefits are great lol.
I'd have to say the best part of having a website is that I'm able to make all my fantasies come true and hopefully I make some of your come true as well! I love meeting fans at the parties and barmeets and I've started many new friendships this way. So if you want to learn more about me and see some of my sexcapades check out my fanclub and let me know what you think!
Xoxo,
Angie

What are my STATS?
I'm 5'7, 110 pounds, My measurements are 34D-24-36, my eyes are Hazel green, my hair is blonde.
What are my TURN-ONS?
An outgoing personality and a fantastic sense of humor! I love sexy eyes and a well-built chest. A nice butt is a bonus! Yummy!
What are your TURN-OFFS?
Pushy and rude people!!! Selfish lovers, I love to be pleased as much as I love to please!!!
Do you prefer MEN over WOMEN?
This is a hard question because to me the two are completely different. There is nothing like having a nice hard cock inside you when you are really turned on.... But then a girl knows just how to touch you...they're both very different. Final Answer: Both at the same time!!!
Do I like TOYS?
Love them! But I still prefer a talented tongue and a hard cock. If only I could find a cock that is able to as long as the batteries in my toys!
Do I MASTURBATE often?
See Do I like TOYS?
Does SIZE matter?
Not at all! If you know how to use it then size doesn't matter.